Versatile Medium-Sized
Electric Fryer DEC
The most easy-to-operate electric fryer with the updated technology of special seethe electric heater(Patented in Japan). The special electric heaters have very thin structures, ensuring the good heat transfer balance between left and right in the vessel. The heaters also radiate infra-red ray so that the core and the surface of the products could be cooked evenly.
The conveyor can electrically be lifted up and down, offering operators a good access condition for cleaning and maintenance. The special caterpillar or teflon conveyor can deal with battered products. The sediment removal conveyors are effectively taking most of the impurities out of the system. The passage height is adjustable between 35mm and 50mm according to product sizes. Conveyor net can be separated from the system for easy cleaning and maintenance. The antislip net can discharge products at the steep outlet without product sliding.
All the surfaces of the system are insulated and finished with well-treated nickel-chrome stainless steel covers. Oil can be circulated on customer's request. All the process are digitally monitored and checked in the centralized touch panel.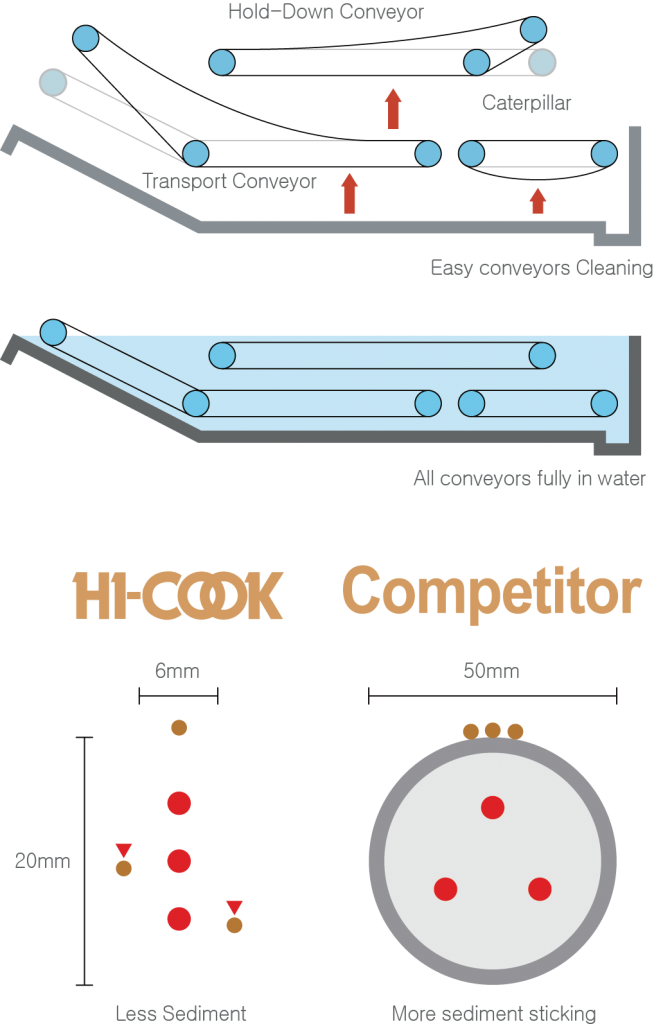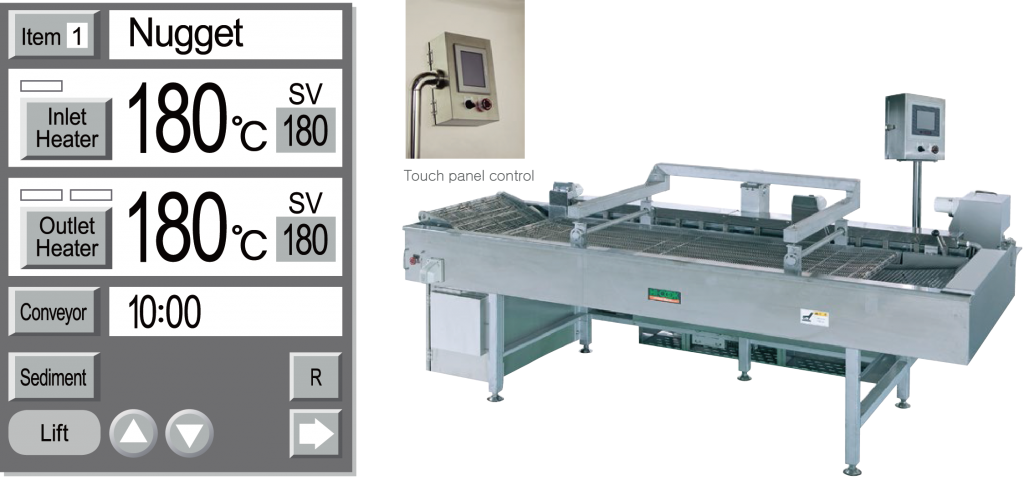 Powerful director gas burner offers quicker coming up time
Gas Fryer DBC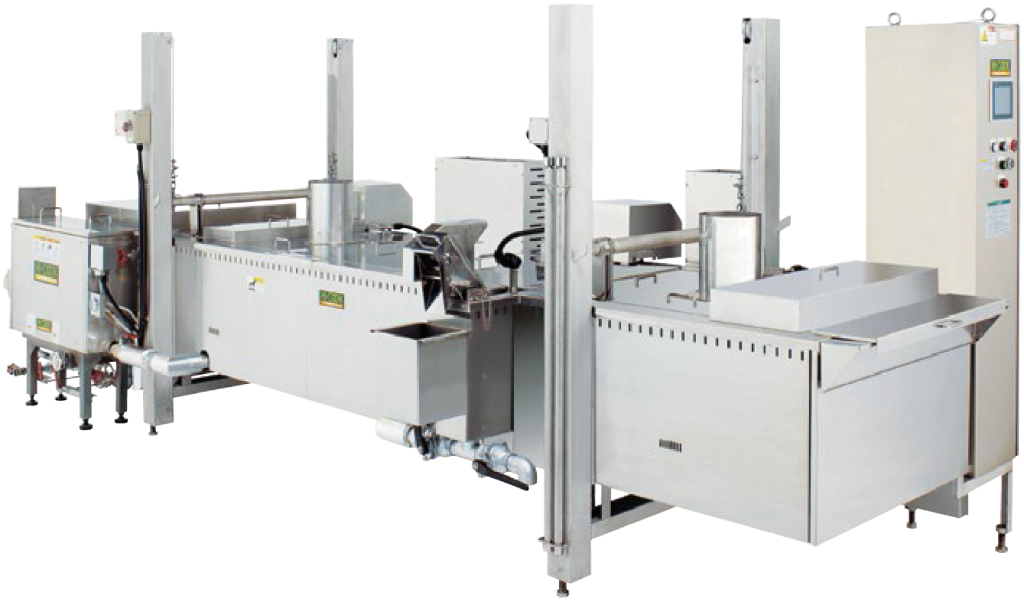 – Japan patented Residual burning system
– Caterpillar conveyor(no product sticking)
– Centralized exhaust
– Versatile for various kinds of products
– Special reinforced stainless steel oil pan
– Flame detector
– Overheat protector
– Anti oil-less combustion system
Versatile Medium-Sized From fish fries to Kara-age and Tempura, versatile and compact
Fryer DC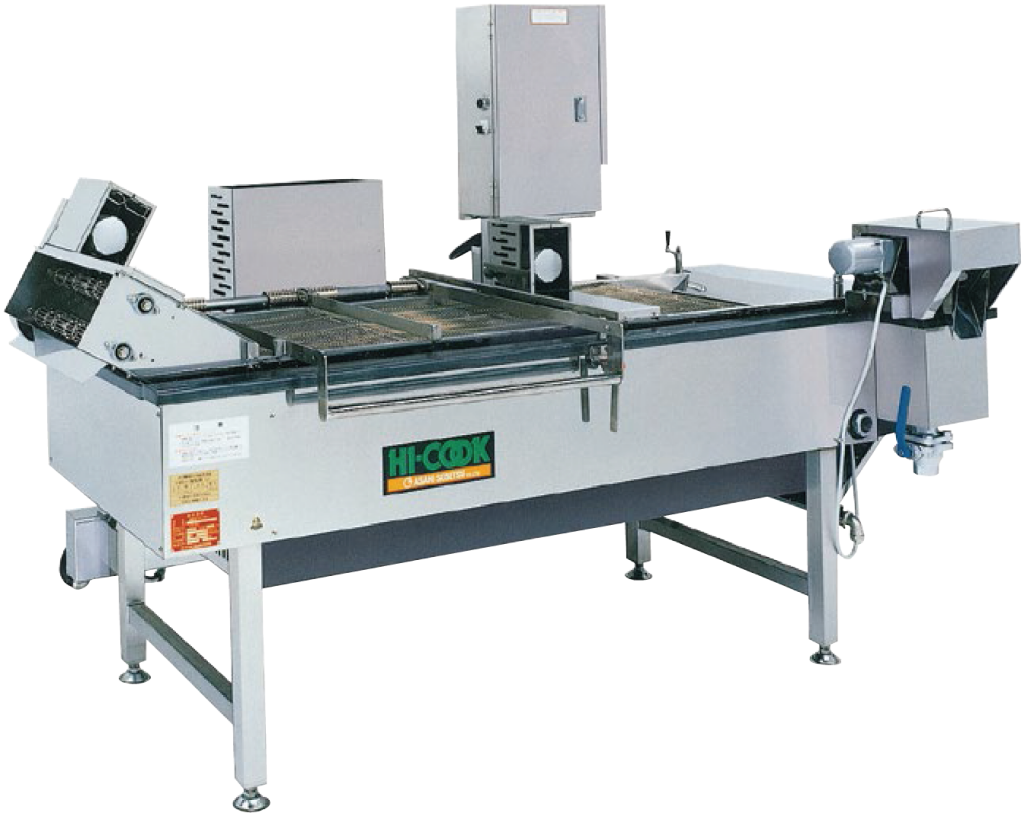 – Special caterpillar conveyor ensuring no product sticking
– Totally independent speed control in conveyors
– Patented residual burning system
– Independent temp. controls in inlet and outlet
– Touch panel(up to 30 programs to be strored)
– Electric lifting(DC-G type)
– Hold down conveyor and main conveyor can be separated
– Sediment remover as a standard option
– Flat oil pan(no impurity remaining)
– Flame detector(no flame, no gas supply)
– Overheat protector(any excessive overheat, no gas supply)
– Anti oil-less combustion(no oil, no gas supply)